About Wesley Proctor Ministries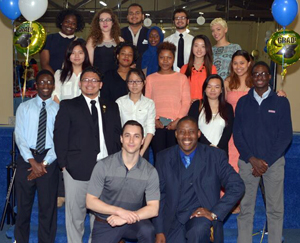 The vision of Wesley Proctor Ministries is to enrich, educate and empower.
This organization is purposed to enrich the lives of all people through the teaching of the Word of God, but not neglecting academic education. Dr. Proctor explains, "As we strive to meet the holistic needs of those we aim to reach, we endeavor to place emphasis on continued academic growth and learning. Therefore, we're educating others through written publications, seminars, activities and various programs."
Critical experiences in Dr. Proctor's life - some tragic, but many auspicious and ground-breaking - have shaped this modern pioneer and undergird his relentless determination to give back to the community. As an inner city teenager, Dr. Proctor suffered the agonizing and untimely death of his elder brother, James W. Proctor III, who was killed by gun violence in the late 1980's.
Among the myriad of other challenges that would confront Dr. Proctor as an inner city African American male, included his early years as a member of an underprivileged, single-parent family, and overcoming a speech communication impediment -- Dr. Proctor did not speak verbally until the age of six! Dr. Proctor remembers, "It was through the professional consultation of my speech therapist coupled with my mother's prayers that I was able to speak clearly."
As a young black male, Dr. Proctor chose not to be status quo. Instead of succumbing to trite media images of minority inner city teens as menaces to society and deviants, Dr. Proctor resolved to beat the odds by focusing on his Christian faith, family and education. The apex of Dr. Proctor's academic career came at age 26, as he earned a Ph.D. from University of Pennsylvania, one of the most prestigious academic institutions in the United States. "I think about God's favor in the entire area of my academics. I've obtained degrees from three different educational institutions -- all debt free! It was nobody but God." This milestone, among others, has established Dr. Proctor as a bona fide mentor and dynamic leader to many of Philadelphia's youth.
In addition to losing his brother, Dr. Proctor also suffered the loss of several other beloved family members. James William Proctor is the name of Dr. Proctor's grandfather, father, and brother -- all deceased -- and who have all in their own right, greatly influenced Dr. Proctor, and have propelled him to become a conduit of hope and charity in the community.